The outcome of tomorrow's Federal election in Australia in a very real sense simply does not matter. What does matter, deeply, is what we all choose to do with that outcome. So just skip to the bottom if you only want my prediction, but if you're interested in the why of it, and the future of my (your?) country, and how it reflects the future of the world, read on.....
Maybe it seems a tad disingenuous to suggest that the institution of participatory democracy wherein we decide by majority who shall lead our nation is not so relevant to our lives - because it
can
be, and the very fact we are blessed with
some
way of exercising individual choice, however corralled and fettered, is nice - but in this particular case, it's really not such a major issue. I'll try and explain.
More than at any time I can recall, this campaign and the commentary thereon has been hyper-focussed on the process of campaigning and electioneering itself, rather than on the more traditional Western notions of leadership, vision, and appeals to our better natures and genuinely shared values. Interestingly, the one party to attempt this to any great extent has suffered a seeming conspiracy by the two majors and their friends in the media to stifle and suppress their presence to the largest extent possible. So in the absence of all but the merest whiffs of future policy positives to differentiate the main combatants, the whole thing has been like watching two opposition parties in action, and has relied most heavily on the negative meme-warfare that has been so widely commented upon.
Where else do we see this sort of rampant labelism?
Speaking of memes, a well-worn and now venerable one is that in many ways "Australia lags 5 or 10 years behind the USA." Stereotypes, as they say, save time, as does an axiom like this one, which I happen to find has much truth in it; although perhaps the time lag is shortening of late. Note that I say "much truth", not "complete blanket certitude".
It's been a process going on for a long time, but following the G W Bush years, the horrors of '9/11', a couple of disastrous military excursions, and the almost awe-inspiring almost-implosion of the world financial balloon, the accession of Barack Obama to The Holy Throne of the Freedom Loving People's Republic has seen a tremendous tipping point reached in terms of how the USA talks to itself and thus how it then relates to the world. US politics has always had a bumper-sticker quality to it, but with the great crash of the Republican party, the subsequent splits that have occurred within it, and the newly widespread questioning of the supremacy of life under an unregulated free market system, there has been a massive shift into the meme market. To quote Roger Ebert, "Why do you need facts if you have catchy memes?"
In his recent blog post
Ten Things I Know About The Mosque
he opines that "Someone on the right is an Anonymous genius at creating memes." And goes to to point out that Sarah Palin seems to be floating a lot of them - Death Panels, Ground Zero Mosque, 9/11 Mosque, Terror Babies and so on. Interestingly, Twitter seems a first-choice medium for launching these little nuggety bites that become the cud for talkfests over all forms of media in the days thereafter, and they're scrupulously planned. I don't think Ms Palin is doing her own tweeting all the time, at least not since "Refudiate-gate" anyway, as the below tweets on the Laura Shlessinger brouhaha, within a minute of each other, would suggest.
All the great issues in the US since Obama's election have been increasingly boiled down to mini-messages by the conservative side especially, but not forgetting that POTUS himself is quite the master of the game. Oh Yes He Is.
So here we've had Moving Forward and Standing Up For Real Action. Nothing unusual in lame slogans though. The Liberals' four-point Action Contract is as precise as you can get without saying anything about how you would run a country if elected. It's just a dot-point collection of vagaries about what they hope to stop from happening. Labor is scarcely better.
There might be a feedback loop in play here. The public and the media, stymied and starved of any policy or leadership grist have increasingly bought into the short-message syndrome. Boat people. Stop The Waste. Big New Tax On Everything. Budgie Smugglers. Pay Back The Debt. Work Choices - Jerk Choices, even. Sustainable Population. Political Assassination. Faceless Men Of Labor. Ranga. Mr Rabbit. We could go on and on as there's a new one or two every day to satisfy the 24/7 news cycle. This has been harnessed by either side to attempt to perhaps exhaust the opposition but moreover to keep the focus as squarely as possible away from the deep issues that everyone knows are the real ones, the right ones, the ones we need to face but would really rather not thanks very much if it's all the same to you because down that way lies some not-so-nice home truths about how we are behaving and where we really find ourselves in this world. Because for either side to embrace the ugly truths is electoral suicide. They have each done a fair job of applying the anodyne ointment to the few pesky souls like the annoying Dick Smith insisting with the weight of all his dollars that we listen to his blatherings about population, thereby opening a genuinely gaping sore in our sense of security about the future and forcing us to confront our morals head-on.
But clearly, we're not quite ready to get real about our shared hearts just yet.
Last election, I recall having a chat with a work colleague - a mature, intelligent and very respected woman with a great and level head on her shoulders, and a good heart to boot - who said that she "liked Kevin Rudd, but I'm really not sure about voting for him because
I worry about what he'll do to interest rates
...." She'd bought the fear campaign sold by the Howard spin dudes, with the supremely subversive assertion embedded that Prime Ministers control all the levers of the economy and are personally responsible for ensuring that rates do not increase. Because the Liberals had of course done their level best to grow the economy by creating ideal conditions for a massive housing bubble, and it worked rather nicely. Except that bubbles...well....
So the meme game is far from new, true, and we none of us are entirely immune to the effects of the advertising professionals. How apt that the best and highest-rating TV commentary on the election is Gruen Nation, a show focussing entirely on the advertising. Even the most democratic of fora, Q&A, has been unable to stay completely above the mire of the scripted sword-and-shield duo of one-liner barbs and deflections. People have bought in more than I have ever known them to.
A major change is that this year Twitter and to a lesser extent Facebook (and other forms of tech-enabled instant forum) have left their cosy dens of denizens and initiates for the small screen mainstream of everyone's lounge rooms and in the absence of substance the short-message-stream has become the entire conversation.
What I'm wondering is are we heading rapidly into the sort of labelistic partisan politics we're seeing in the USA where ideology is used as a weapon, where fear of ostracism runs rife, and where the hackneyed rhetoric of timeworn ideological divide is the substitute for genuine thought and the quest for a new, better way?
I know I'm being overly harsh and generalistic, but I'm willing to bet that there is a substantial number of Americans who would say otherwise.
I have complete faith that it will work out just fine though.
Maybe the twitspeak we now enjoy as a substitute for exploratory discourse will bring us closer to a succinct summation of what we all know is right and true. Perhaps it will lead us into the damned cul-de-sac of blind self-interest and individualist narcissism that is the hallmark of much of the so-called social media experience. But then again perhaps this would be a good thing too, for Narcissus always has the chance to thusly come to his senses.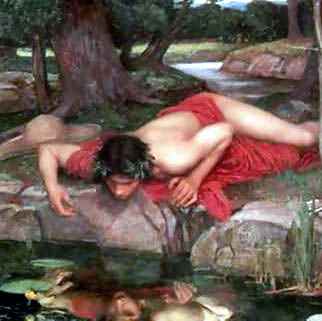 My feeling is that whatever the outcome of this election, the real test comes afterwards, not just for the politicians, but for us. We have invented and nurtured a dumbed-down discourse about how we want to live as a group and in how we want our group to fit in with the others on this so-far stoic planet. I believe that this is out of fear of the truth, which we all know deeply inside ourselves.
We can go one of two ways, and this applies to our brethren in the States and elsewhere too. We can take whatever vicissitudes we heap upon ourselves through our elected leadership and use them as fuel to agitate amongst ourselves and drag the deeper truths inside us out into the light of day and start, each one of us, to refuse to countenance dumbspeak; to insist that we need to face the future with a bright mind, a strong back and a soft heart, and to start to find new and better ways of doing it together. Or, we could just go on like this, increasingly embracing the message as being the meaning, believing that the system is to blame or that it's all going to turn to shit anyway so let's get down and burn some oil while we still can.
Either way though, the outcome will be the same. We'll get by, some of us. There will be survivors, and there will come a time that is more harmonious and fulfilling to all our needs and aspirations than now. The difference is whether we need more pain and suffering and damage and degradation - whether we need the nightmare to get much worse - to wake us up as a nation or a species; or whether we can just pull a little more firmly in the direction our true hearts lie, talking compassionately to our equally-flawed neighbour, and helping each other through the hard bits.
Tipping point ahead, I reckon. And I no longer reckon we're that far behind the States in this way.
My prediction for the 2010 Federal Election?
We'll get exactly the government we need to have.